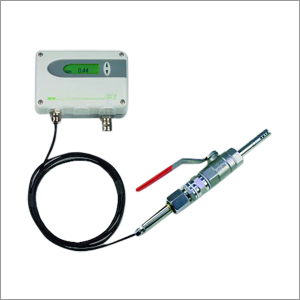 Product Description
Our organization is a noteworthy entity in this domain, involved in manufacturing, exporting and supply excellent quality Oil Moisture Transmitter. This transmitter is precisely manufactured using the finest quality components with the help of modern technique under the strict supervision of our skilled professionals. Offered transmitter finds its application in numerous industries for detection of moisture in insulation and lubrication oil. Further, we offer this Oil Moisture Transmitter in diverse technical specifications at nominal price to the clients.
Features:
Optimum performance

Trouble-free functioning

Compact design

Longer service life

Humidity measurement in oil
Similar to the humidity in the air, the water content in an oil can be described by the absolute value in ppm or by the relative value aw:
ppm (mass of water / mass of oil)

aw (actual water content as fraction of the water content in the saturated oil)
aw = 0 corresponds to water-free oil, while aw = 1 describes fully saturated oil. aw measurement with EE36 transmitter series is based on the outstanding long term stability and resistance to pollution of the E+E capacitive sensor elements series HC.
Water activity
Measuring range, 0 ... 1aw
Accuracy- Standard calibration ± 0.02aw (0 ... 0.9aw) ± 0.03aw (0.9 ... 1aw)
Temp. dependence typ. ± (0.00002 + 0.0002 x aw) x .T [ ° C] .T = T- 20°C
Response time at 20°C 1 t90 typ. 10m in in still oil
Temperature Working range probe - 40 ... 180°C (-40 ... 356°F)
Outputs selectable and scaleable outputs 0 - 5V, 0 - 10V, 4 - 20mA

Product Versions
The physical quantities measured are water activity aw and temperature T. With these quantities EE36 calculates the water content (ppm) in mineral transformer oils. Calculation of water content in non-mineral transformer oils and lubrication oils can be accomplished by downloading specific parameters of the oil. The measured and the calculated values are available on two free scaleable and configurable analogue outputs. In addition, an optional relay output can be used for alarms and process control.

Installation
The sensing probe is designed for inline monitoring and can be placed directly in the oil, at pressures up to 10bar (145psi). In addition to direct mounting of the sensing probe, a ball valve installation provides mounting and removal of the probe without interrupting the process.

Easy Calibration and Adjustment of EE36
The user can easily readjust or calibrate the transmitter by using either a simple procedure with two push buttons on the printed circuit board or the configuration software.

Software Tools:
The configuration software is included in the scope of supply and allows an easy and fast configuration of the analogue outputs and of the alarm and control thresholds. Further features of the configuration software are adjustment and calibration of the outputs and service operations such as replacement of the sensing elements or of the entire sensing probe.

Features Of EE36:
Measurement of aw and T at pressure up to 10bar (145psi)

Calculation of water content in ppm for mineral transformer oil

Two free scaleable and configurable analogue outputs

Probe cable length up to 10m (32.8ft)

Easy on site adjustment and calibration of aw and T outputs

LED indication for operation and sensing probe status

User configuration of the instrument with PC via RS232 interface

Configuration software

Display of aw, T and water content with MIN/MAX function optional

Two free configurable relays outputs optional

Replaceable sensing probe optional

Connector for power supply and outputs optional
Contact Us
885/1/4, Bhandarkar Road, Deccan Gymkhana, Pune, Maharashtra, 411004, India
Phone :+918068092709